An Invitation that ignited a dream
I made the move to beautiful Colorado in the fall of 2005.  At the time, the idea of chasing elk in the mountains with a bow had never crossed my mind.  A year later, a friend from college asked me to think about joining him on a hunt.  I couldn't make it happen that fall as I was recovering from  hernia surgery and my wife was expecting our second child.   However, the idea took root that year. 
The fall of 2008 came around and this time I was going.  I was working as a youth pastor, had a growing family and no money for gear or nice equipment.  I borrowed everything for that first hunt outside of a few pairs of army surplus pants I was able to afford.  I practiced a lot using my friend's old Browning bow back from his high school days.  It was a 60lb compound bow with two metal pins for sights.  I was confident and ready as long as I could get an elk within 30 yards.   
Little did I know just how hard that would be.  That first fall, four of us set out to chase elk in the Holy Cross Wilderness area.  Full of passion and youthful zeal, we hiked over every ridge aggressively covering ground and squeezing our Hoochie Mama calls.  After a season of hiking 50 plus rugged wilderness miles we had seen and heard exactly ZERO elk!  We were optimistic though, next year everything would change!  Except it didn't; another 50 plus miles without a single elk sighting.   Rather than being discouraged, the challenge fueled my passion.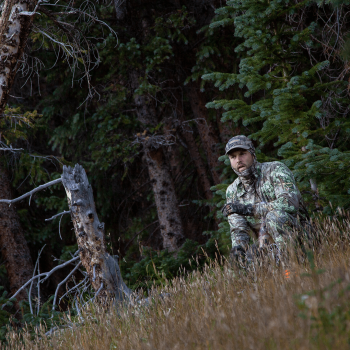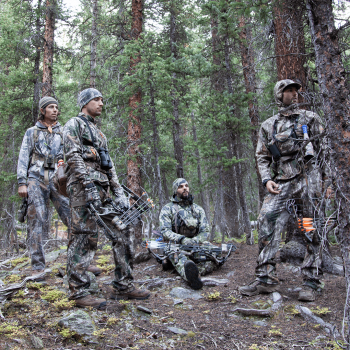 The Team that Poured Gas on the fire
Every year at the end of hunting season we gather together for a celebration dinner (hopefully with wild game meat).  We laugh and share stories of our experiences; the things we learned, our favorite moments, and our biggest blunders.   In 2016, we sat around the table and wished we had a better tool for recording our experiences and recounting the events and locations for where things occurred.   We found that some of the details from years past were getting a bit fuzzy.  Questions started to arise if early season was better than late season or was it all dependent on the moon phase.  We had all learned a lot but there were some missing pieces and we had no way to answer some of these questions or test our assumptions.   
That same evening things got competitive.  Who was actually the best hunter???  I had won the preseason archery competition (here is the score sheet to prove it) and I had harvested a smaller 4×4 mule deer that season.  David had harvested a nice 6×6 bull but only after missing his first shot.  Let's just say he was lucky the bull froze and turned broadside giving him that second opportunity.  Noah had successfully buried two arrows in the chest cavity of an elk and spent the next four days tirelessly looking for his bull before breaking down with the emotional weight and gravity of the loss.   That was just three of our stories and doesn't include the claims to the title from Steve, Sky, Daniel, Patrick, Tim, Brian, or Todd!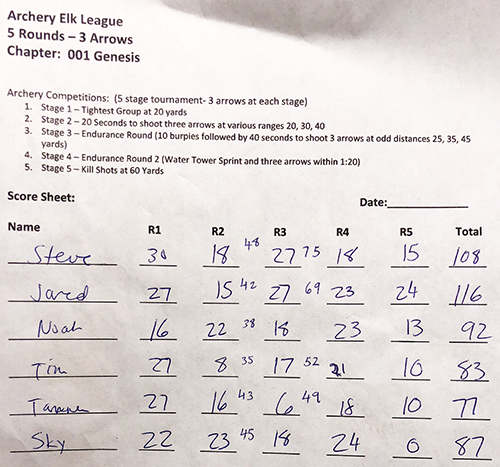 We had lots of questions that night.  Were we actually getting better year over year?  Were we learning all that we could from both past mistakes and successes?  Or is all of this just plain dumb luck?  I do believe the harder you work the luckier you get.  However, last year I took a 14 year old on his first ever elk hunt and 10 minutes into the trip on his first ever attempt on a cow call (The Bull Hooker) he had a mature bull bugle and come running to within 35 yards.  
All of this to say, we wanted a better way to track, score, share, and compete with one another and ourselves.   Now most of the guys went home that night after enjoying a great evening together and never gave the conversation another thought.  Not me…I lost sleep and couldn't stop thinking about it.  I didn't want another year to pass and keep missing things that would help us be more successful in the field.  So that night was the genesis moment for HuntLeague.    

The past few years have been nothing but sacrifice, pouring myself into building something that would help answer these questions.  Many sleepless nights drawing up flow charts, creating complex point systems, setting up database structures, and learning photoshop alongside the brilliant Brandon Montoya (THANK YOU! You are a true friend and I could not have done this without you.).  My wife has been amazing too putting up with all of this nonsense as she watched me spend money that should have been set aside for our kids college, a kitchen remodel, and maybe a few vacations around the world!  
I know there is still some work to be done and I plan to continue to make the user experience and functionality better with each update.  My sincere hope is that you enjoy every moment you get to spend in nature, that your phone never distracts you from the experience, and that this becomes a tool that will help you become more successful personally and a vehicle that will empower you to share your hunting knowledge with the next generation of hunters.  I hope to see you a part of the HuntLeague Community for years to come!
Best of Luck  –  JNew